Schlagzeuger und Komponist
Drummer and composer
Über Ferenc
About Ferenc
Theaterproduktionen
Projekte
Über Ferenc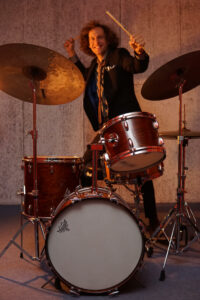 Ferenc erwarb sowohl ein künstlerisches, als auch ein pädagogisches Diplom von der Hochschule für Musik und Theater Leipzig. Nach mehreren Jahren als freiberuflicher Musiker in Berlin und Leipzig machte er seinen Master of Music an der staatlichen Hochschule für Musik und darstellende Kunst Stuttgart. Darüber hinaus führten ihn seine Studien an das Conservatorium van Amsterdam und die Manhattan School of Music, wo er bei John Riley, Jim McNeely und Phil Markowitz studierte.
Ferenc Mehl spielte in den Jugendjazzorchestern von Bayern und Baden-Württemberg. Er war Mitglied im Bundesjazzorchester und arbeitete dort mit Steffen Schorn, Ed Partyka und Jiggs Wigham. Er tourte durch Taiwan, Thailand, Malaysia, China, Süd Korea, Russland und Europa. Ferenc lebte in Berlin, Amsterdam und New York.
Durch sein ernsthaftes Interesse am Unterrichten hatte er das Glück an vielen verschiedenen Musikschulen tätig zu sein, Workshops im In- und Ausland zu geben und dadurch verschiedene Konzepte und Herangehensweisen kennenzulernen. Aus Mangel an geeignetem Material veröffentlichte er eine eigene Schlagzeugschule.
About Ferenc
Theaterproduktionen
Projekte
My Gear
I am glad to call a bunch of great instruments my own. I found those travelling and constantly "hunting" where ever I have been.
Gretsch Stop Sign
So it happened that I found a 18", 12", 14" Gretsch Stop Sign Batch in Manhattan which I brought home. Since than this is the Set of Drums I play for all kinds of small acoustic groups. It has a very warm and wooden sound without any lack of attack.
Cymblas
I am lucky enough to say that for all kind of music I am able to choose from a variety of cymblas. Some of them are worth mentioning. As a main Ride I like to use a 22" Spizzichino which is very light and therefor warm and dark but sometimes a little washy. I bought it in Italy when I visited Roberto 2008. There is another 22" Cymbal which I play more often at this time. It is a Dyrill Prototype and way heavier but beautiful in tone and range. It reminds me to the sound of Kenny Washington… Usually I play it with two rivets but I lost one.
Hihat Cymbals
My Hihat Cymbals right now are two 15" Hollywood. I found those cymbals at a Vintage Gear Flee market in Germany and I do know nothing about the Brand but the Sound is just great. If the music asks for a softer sound I go with my 14" Avedis from the 60th. They are lighter a little less aggressive and just as beautiful.
Red Sparkle Amati
At different occasions I play a triggered 20" Red Sparkle Amati Bass Drum with an additional pick up alongside a triggered Rogers Snare Drum and a 24" Cymbal. The Roland TM 2 Module provides me with everything I need and is easy to handle.